Undertaking Anti-Money Laundering is now mandatory for all token issuers in most jurisdictions. Good execution during a crowdfunding period is so crucial that it generally spells life or death for regulated blockchain projects. Being supported by a community sharing a common vision is no longer enough. What matters is marketing, raising funds from institutions – not only from the community, and converting commitments to actual compliant funds. That's where we can help !
You are planning to raise funds in fiat and cryptocurrencies alike ?
You want to focus on your core activity and delegate the compliance checks on your contributors ?
You need escrow ibans and wallets to raise actual funds instead of mere commitments ?
You need accurate dashboards to visual at any time the status of your private sale ?
You intend to deliver an ERC20 token to all of your vetted contributors immediately after the sale ?
You are looking for a whitelabel self-onboarding platform to remain in control of your brand identity as you fundraise ?
Get helped by up to 2 full time compliance officers and 2 paralegal officers based in Switzerland
Raise funds from up to 500 contributors per day
Raise in 4 fiat currencies (EUR,USD, GBP, CHF) escrowed in a licenced Swiss private bank.
Raise in crypto currencies (BTC, ETH, ADA, USDC, USDT…) escrowed in multisig wallets.
Cost efficient set-up whereby the bank readily provides crypto trading & custody overnight, no R&D budget required
Pay bills and invoice from third-parties even as your fundraising is ongoing.
Through our extensive digital assets experience, we have the tools to address all compliance and KYC/AML related requirements. From offering a proprietary whitelabel onboarding platform to corroborating extensive trading histories, we have the solution for you.
Our extensive and long term relationships with some of the largest regulated OTC Desks across the world provide us with best pricing for our clients regardless of the amount.

Whitelisted Private sale

Customised SSO Solution

Token Buyback Program

Automated Onboarding on EOS

Trustee Vesting Program

Retroactive KYC of Token sale

Whitelisted Private sale
Whitelisted Private Sale
Challenge
Elrond
 is a highly-scalable blockchain for programmable money and unstoppable dApps. 
alt
 was responsible for the private sale of Elrond before a public IEO on the Binance exchange. Elrond organized 1:1 discussions with potential contributors, while subsequent whitelisting would allow them to access the sale through 
alt
's platform.
Solution
alt developed an email whitelisting solution. Today such a list can be directly managed by the project's administrators. Elrond raised $2.5M on our platform and has reached a $10B market cap. Every contributor who invested $10K during the  ICO powered by alt is now worth $2M.

Customised SSO Solution

Token Buyback Program

Automated Onboarding on EOS

Trustee Vesting Program

Retroactive KYC of Token sale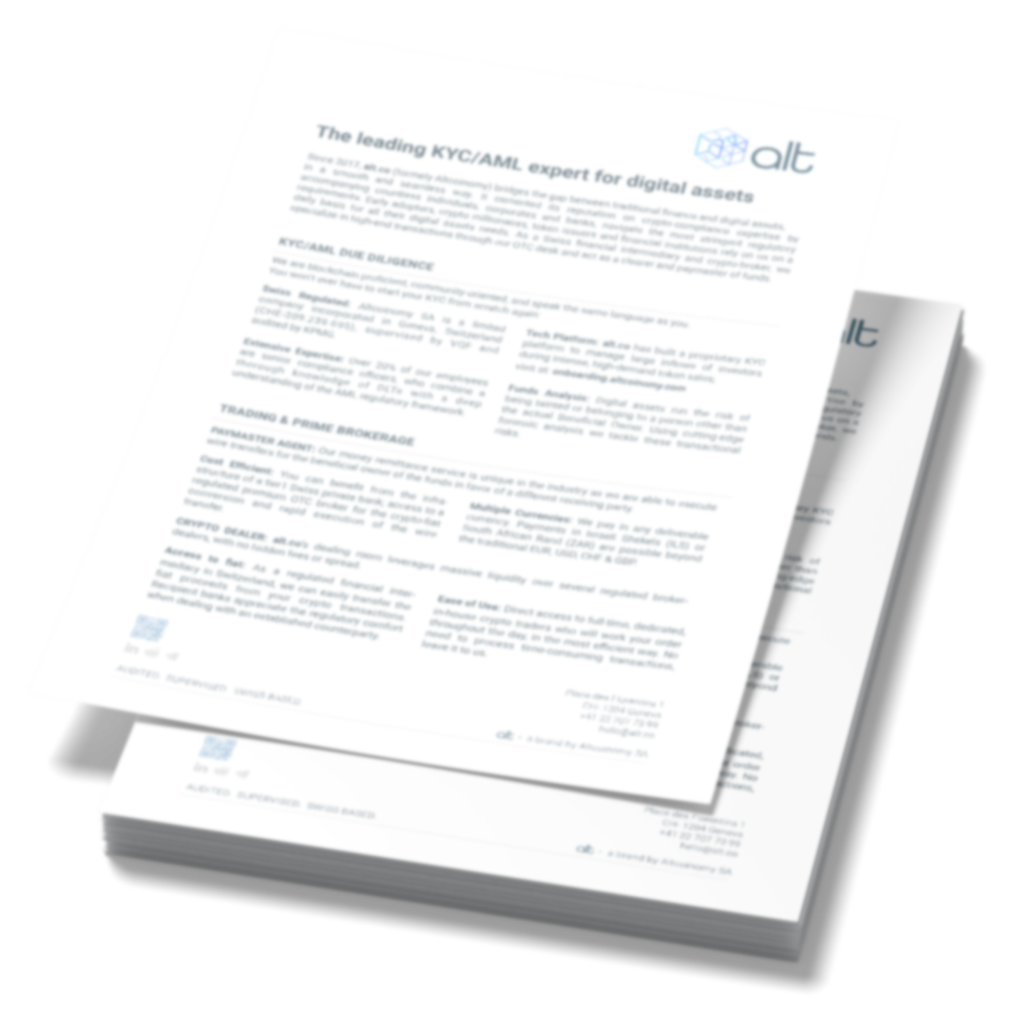 For more info please download our factsheet