Early adopters of digital assets often have a complex transactional history. Whether they mined Bitcoin in 2010, traded on exchanges that no longer exist or invested in ICOs, they all face the same challenge of accessing the banking industry: corroborating their KYC/AML case thoroughly.
You want to bring your digital assets to the bank without friction ?
Show your assets were legitly acquired and are untainted ?
You are trying to trace the origin of your funds on chain and on exhcnages ?
You are seeking for help collecting evidence and structuring your case in compliance with Swiss norms ?
You must execute a payment in fiat but your wealth is crypto-based ?
You want to trade substantial amounts and you are scared of the thin orderbook on exchange ?
You want the assurance that no additional KYC will be required post-trade ?
We collect your data in a non-intrusive way through read-only API Keys on exchange.
We fill the potential gaps in your history through Forensic Analysis.
We draft an executive summary and submit it to our crypto-friendly Partner Banks.
We provide paralegal support to ensure your banking documents are correctly filled.
We convert crypto to Fiat and instruct transfers in favour of a third party.
We execute orders up to 2'000 BTC per day.
Through our extensive digital assets experience, we have the tools to address all compliance and KYC/AML related requirements. From offering a proprietary whitelabel onboarding platform to corroborating extensive trading histories, we have the solution for you.
Our extensive and long term relationships with some of the largest regulated OTC Desks across the world provide us with best pricing for our clients regardless of the amount.
Early Adopter
Affiliate Marketing
Privacy Coin
Futures Trader
Yield Farmer
Miner
Early Adopter
Early Adopter
Challenge
Client A is a Bitcoin early-adopter as he purchased his first BTC in 2012 on the Mt. Gox exchange, which shut down in 2014. He then invested part of his BTC in a number of various ICOs including the Ethereum ICO. Later, he sold most of his ICO tokens for BTC on various exchanges. During the 2017 rally, Client A sold most of his crypto assets on one of the most popular crypto exchanges.
Solution
Using internal tools and forensic analysis solutions, alt corroborated the origin and flow of Client A's funds, demonstrating how he generated his crypto wealth. alt then assisted Client A with the opening of an account in a Tier 1 Swiss bank to smoothly deposit the proceeds of his cash-out.
Affiliate Marketing
Privacy Coin
Futures Trader
Yield Farmer
Miner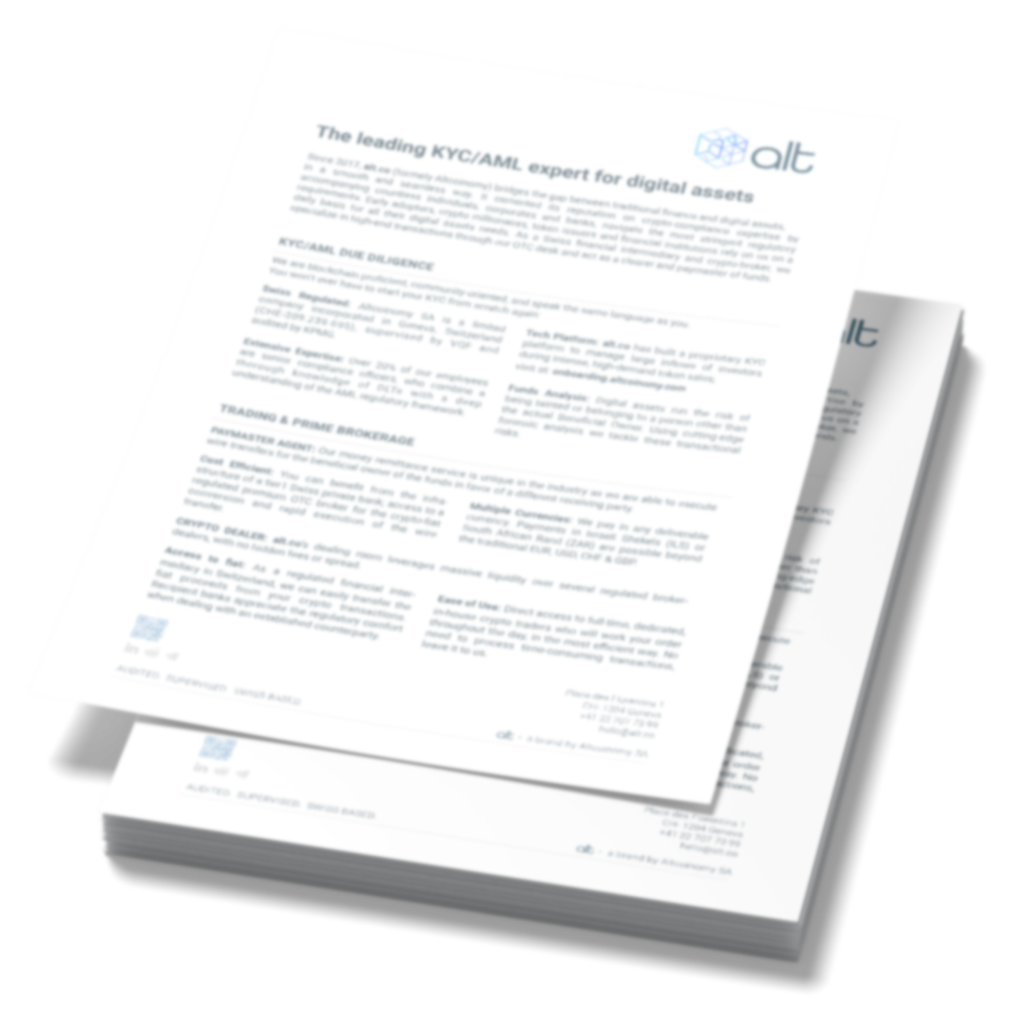 For more info please download our factsheet