Clearing Agent
Centralize and settle your transactional flow. Get operational overnight and provide your clients with an immediate access to digital assets.
AML Support
Supervise the trading activity of your clients. Make sure inflows and outflows do not put your institution at risk. Get help on complex onboarding.

Delegate Crypto-AML Monitoring
Driven by the rapid surge in price of digital assets, banks get solicited on a daily basis by traditional clients looking to invest, as well as by prospect seeking to cash out their digital wealth. Most banks have been reluctant so far to explore this new line of activity due to a lack of knowledge from their compliance department as well as a dated IT infrastructure. We provide support to banks who want to stay relevant within the new financial era and provide solutions to monetize this new asset class.
You want to draft extensive AML and risk policies for digital assets but do not know where to start ?
You need a custodial infrastructure to reflect your clients' digital assets in banking statements ? (coming soon)
You want to empower your corporate trading desk with institutional trading capacities ? (coming soon)
You are looking to implement systematic screening of your clients' transactional flow ?
You need to train your staff to establish best practices throughout your organization ?
We provide consultancy services to legal, risk and compliance departments.
We offer on-premises trading and custody solutions which integrate to your core-banking seamlessly (coming soon).
We accept AML delegation mandate to help financial institution screen and onboard crypto UHNWIs.
We give banks capacity to execute, settle, reconcile and monetize sizable cryptocurrencies transactions.
Through our extensive digital assets experience, we have the tools to address all compliance and KYC/AML related requirements. From offering a proprietary whitelabel onboarding platform to corroborating extensive trading histories, we have the solution for you.
Our extensive and long term relationships with some of the largest regulated OTC Desks across the world provide us with best pricing for our clients regardless of the amount.
Digital asset KYC support for Bank account opening
Bank looking to accept funds from a regulated…
Bank exploring the launch of its own DLT division
Digital asset KYC support for Bank account opening
Digital asset KYC support for Bank account opening
Challenge
Traditional, private (family-owned) bank, looking to onboard a new client whose assets originated from early crypto mining and ICO investment activities. The bank in question lacked the in-house expertise to corroborate and verify the substantial trading and investment activities of the prospect and thus came to alt for a solution.
Solution
A KYC due diligence delegation agreement was established between the bank and alt, where alt would act as the external KYC service provider, having the arduous task and full responsibility of corroborating the origin of funds, as well as transaction history, including identifying the beneficial owner, relieving the bank's accountability while saving a substantial amount of time.
Bank looking to accept funds from a regulated…
Bank exploring the launch of its own DLT division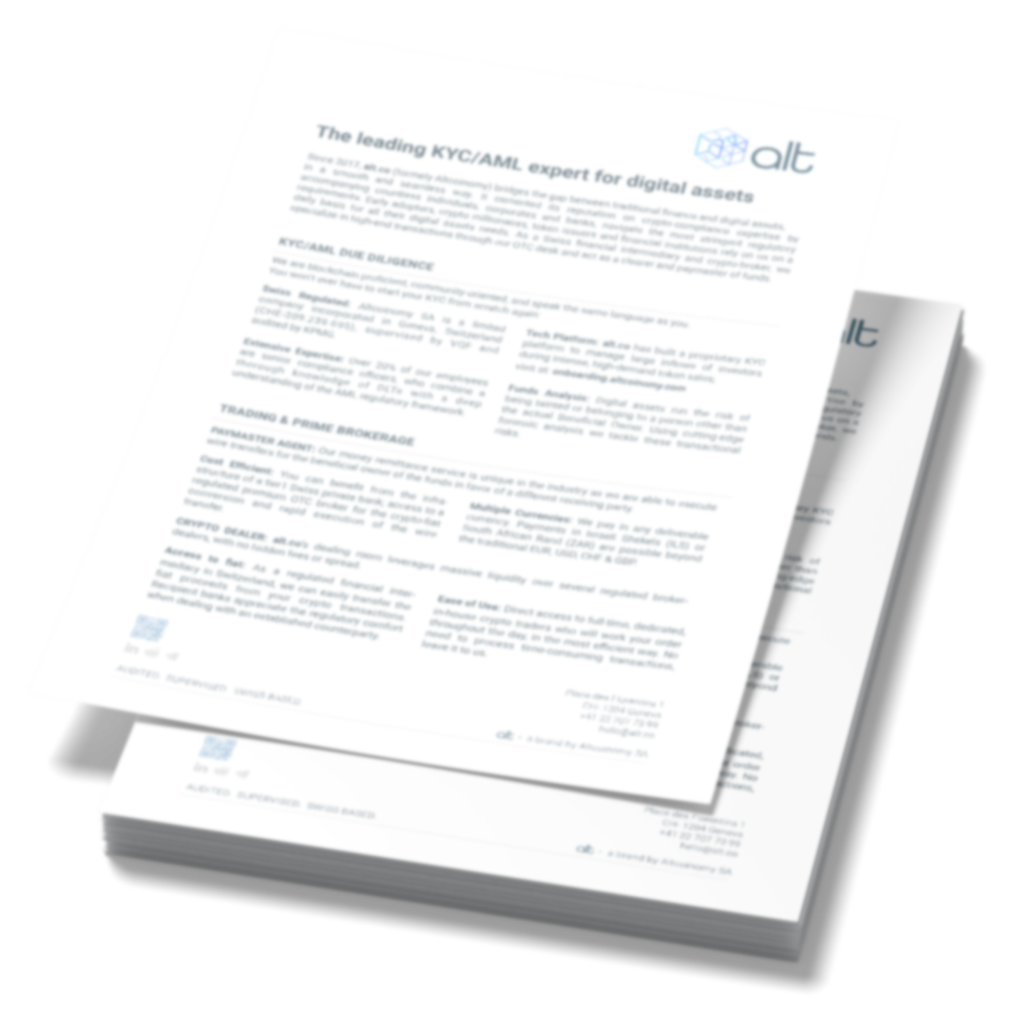 For more info please download our factsheet